Is NordVPN really the leading vendor it claims to be?I ran every test possible to see how well it really performs. From its encryption and security measures to its speeds and ability to get around geoblocking, you'll find everything you need to know about NordVPN in this full review. Before we dive right in, I will say one thing: NordVPN offers some of the best features around. In fact, its app is full of perks that some other VPNs haven't even thought about yet. But are there any drawbacks? Yes, I found a couple of areas where NordVPN fell short.
Short on Time? Here's What Matters Most
Streaming. Can NordVPN unblock streaming services like Netflix, BBC iPlayer, Hulu and ESPN? Yes! See how it handled every service I tried!
Speed. Is NordVPN as fast as it claims to be? Yes. In fact, my speed actually increased.
Security and Ease of use. Advanced encryption and extra measures make it one of the best.
Breaking geoblocks. It handles them with ease, even China's.
NordVPN is a popular vendor that makes some substantial claims, like being "the best provider in 2021". But good marketing doesn't always mean good service, does it? With tougher geoblocks, more scrutiny over VPN use, and new, advanced features from other VPNs, the market is changing every day. I've tested over 300 VPNs, so I know exactly what to look for, and see if NordVPN's claims are true. I dove deep to test out each of its features and discovered how they actually work, from speeds and security, right through to streaming and ease of use. I even had my operatives in China, Russia, and America run the tests too, so I could give you the whole picture. I looked at everything – from speed and streaming capabilities to security and customer support. Because, to be the best, a product has to deliver in every category.
NordVPN's Secret: Are The Rumours True?
Some users have noticed that when signing up to NordVPN, the company they pay to isn't Tefincom & Co S.A, the veteran Panamanian developer behind NordVPN. In fact, it turns out to be CloudVPN, Inc. Is this a front or something else? Could NordVPN be hiding something? There are many speculations, so I decided to run a thorough check. I found that CloudVPN, Inc. is a US-registered firm, and not part of NordVPN's actual developer. But how much of a risk is this to you? It raises all kinds of questions, especially since NordVPN is headquartered in Panama which is a privacy haven, but the US is the complete opposite. My research went deeper, and I discovered CloudVPN is simply a payment collector for NordVPN, which means that there are no privacy concerns. While you might pay through a US-registered company, the VPN itself has no government back-doors or an NSA footprint – and this is the real NordVPN.
Streaming – Does NordVPN Work With Netflix?
Yes. Netflix's tough geoblocks stop many VPNs from accessing the service, but not NordVPN. It has a SmartPlay feature that's specifically designed to bypass geoblocks and keep you secure at the same time. It combines DNS with VPN technology to easily evade blocks, but always maintain your security. I put it to the test to see how easily I could access Netflix US. I tested 133 NordVPN US servers, including the fastest US server, and I was able to get onto Netflix with every single one. The streaming quality was ultra HD, and there was no buffering or lag.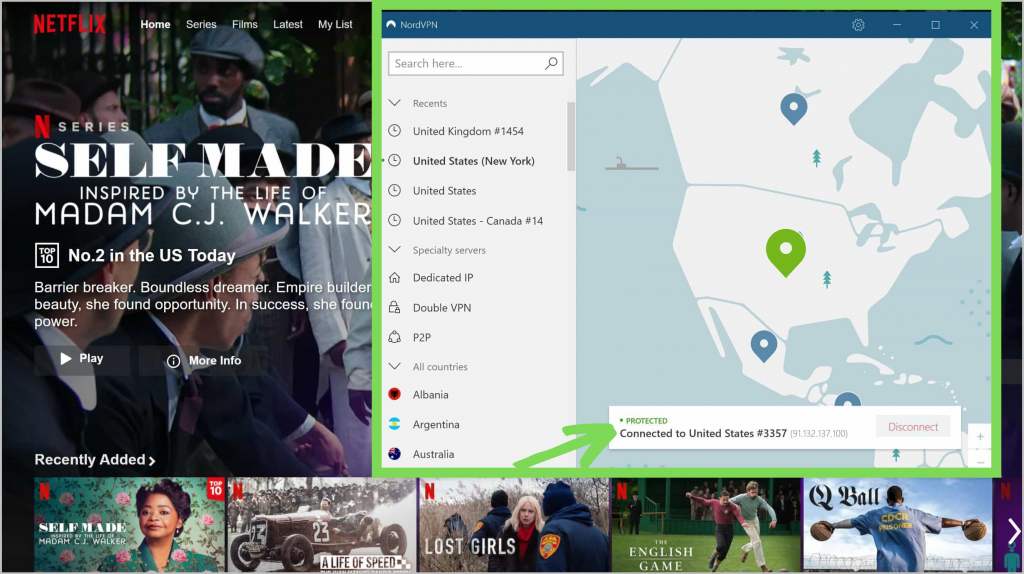 I then headed over to Netflix Australia, Canada, and the Netherlands, and I had no problems there, either. I finished my tests by trying to access the Brazilian and German libraries. No matter which library I tried, my streaming stayed consistent and in ultra HD quality—even when I switched between servers in the same location. One thing's for sure: NordVPN's SmartPlay feature really does work. It flies past geoblocks with ease and guarantees fast, high-quality streaming whether you're connecting to a server nearby or on the other side of the world. In fact, NordVPN is one of the best VPNs for bypassing Netflix's strict detection measures—it consistently outperforms other vendors in our tests. I also tried NordVPN with other streaming platforms:
BBC iPlayer: It has some of the toughest geoblocks, but NordVPN easily knocks them down.
Hulu: Yes, I had no problem accessing Hulu.
ESPN: You can stream your favorite sports, too—NordVPN can access ESPN.
Amazon Prime Video: Yes.
HBO GO: Yes, you can stream HBO GO with NordVPN.
Hotstar: Yes, all your Bollywood movies are ready to stream.
Social media at the top of your list? NordVPN can unblock Twitter, Facebook, Instagram, and more.
Is NordVPN Good for Torrenting?
NordVPN has over 5,520 P2P-optimized servers. You can access them easily from the sidebar in the app, which saves you the time of visiting its website to find out which servers you can use for P2P activity. Each server offers unlimited bandwidth and data, so you can send and share as many files as you'd like, without eating away at a restrictive data allowance. There's a strict no-logs policy, too, so none of your torrenting activity is retained. You aren't restricted to just one torrent client, either. NordVPN works with all popular torrenting platforms, including uTorrent, BitTorrent, and Vuze. I've tested them all, using a number of different NordVPN servers. NordVPN's speeds were faster than my standard connections and I was easily able to bypass my ISP's throttling. NordVPN offers another neat feature for quickly finding an ideal server. You can use the server recommendation tool on the website. Just select your location and a server protocol, and NordVPN will suggest the best.
NordVPN also provides SOCKS5 proxies—you can easily set up your torrent client with one and even enjoy faster speeds. A SOCKS5 proxy isn't fully encrypted, though, so for full security, use it alongside NordVPN. With its exceptional P2P support, torrenting features, and super-fast speeds, NordVPN is easily one of the best VPNs for torrents I've tested.
NordVPN Speeds
NordVPN's Quick Connect feature makes getting online very easy. Based on your location, it finds and connects you to the server with the fastest speeds available. When I tested it, I connected to servers in the UK and the US most of the time. More importantly, I always had lightning-fast speeds, so streaming, browsing, and gaming were a breeze. This top-level feature is one reason why NordVPN consistently comes out on top at speed performance.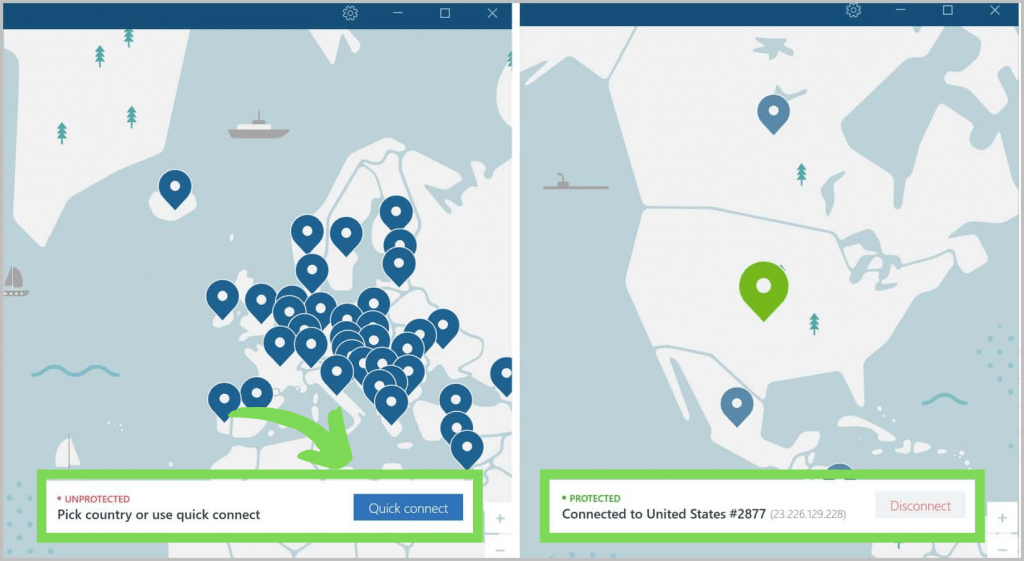 Remember, you can't choose the location manually if you use this feature, because the app decides for you. If you just want fast speeds, go this route. But if you want to specifically unblock geo-restricted content or sites, pick your desired location. These are all available on the sidebar.
Local Speeds
I used NordVPN's Quick Connect feature first, which connected me to a London server. My starting speed was 78.50 Mbps, and my VPN-connected speed was 85.72 Mbps—my speed actually increased by over 9%. I tried streaming Netflix while connected, and the quality was superb. Plus, I didn't need to wait for anything to load, so I dived right into ultra HD.

Since the Quick Connect feature is optimized to provide me with the best speeds possible, I also wanted to try another local server. I connected to a UK server that I picked myself and was rewarded with a speed of 79.35 Mbps. Again, my download speed increased! It was only by a small margin of 1%, but it's still a fantastic result. Browsing was super quick, and when I tried a few Skype and WhatsApp calls, they were clear. In fact, I'd say the picture quality of my calls actually improved.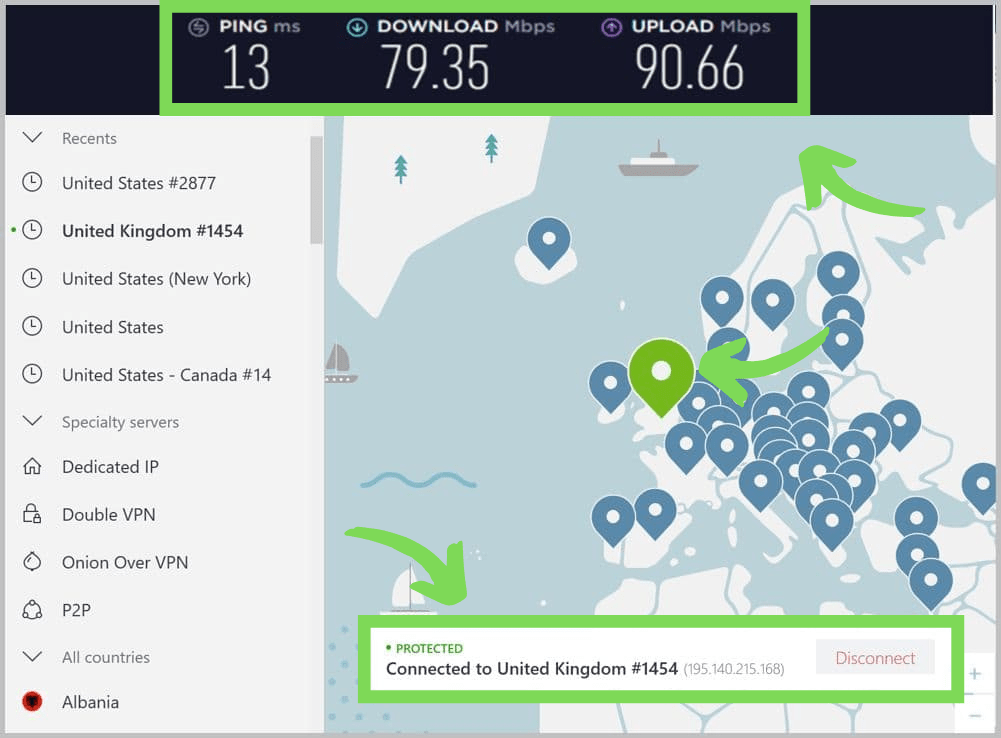 Long-Distance NordVPN Speeds
I started with a US server, and there was another increase in my download speed—this time by over 6%. I expected my speeds to be fast here since the majority of NordVPN's servers are in the US and the Quick Connect feature sometimes chooses a US server. However, I didn't think my speeds would actually increase.
Then I connected to a server in Vietnam. This is where my speed results started to get interesting. I saw a significant decrease here: My download speed dropped by 40% and my upload speed by 96%. However, I still had a download speed of 47.13 Mbps, which is remarkably fast. When I tested browsing and streaming on BBC iPlayer, I didn't run into any buffering or lag. That said, my upload speed took a huge hit, so I did get some fuzzy pictures during my Skype call.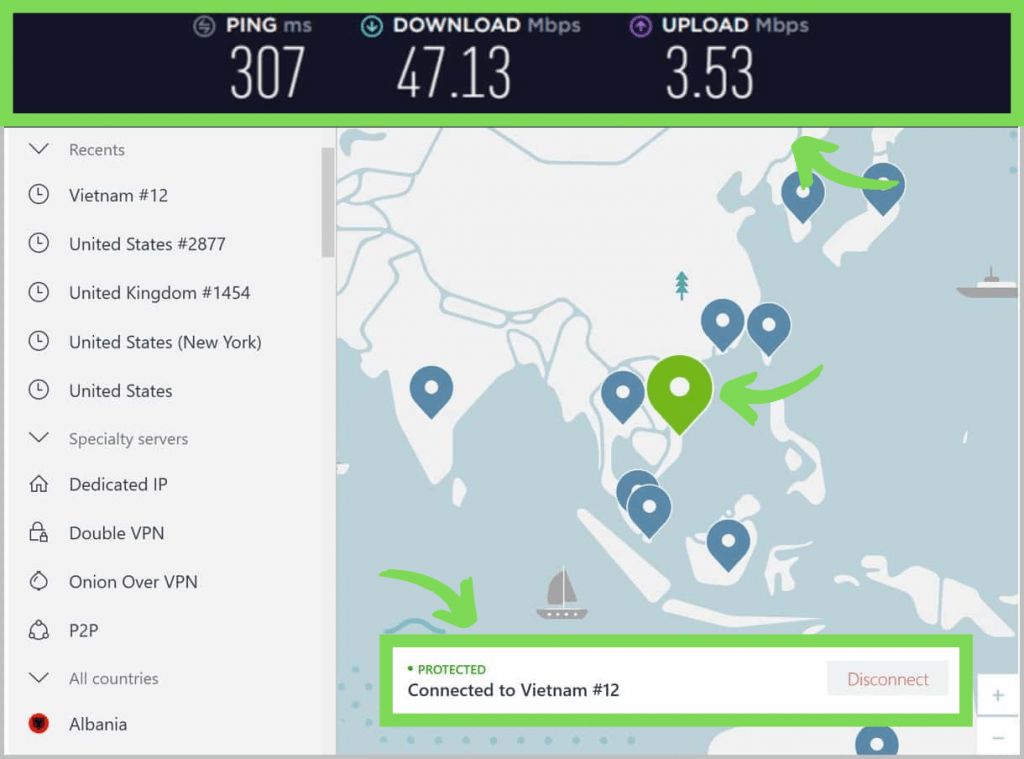 Finally, I tested a server in New Zealand. I had much better results here than with the Vietnam server. My download speed decreased by only 20%, so I still had a speed of 62.63 Mbps, which is fast. Even though I was on the other side of the world, my browsing and streaming stayed unaffected. But my ping significantly increased to 395 Mbps, which made gaming a little bit slower. Reaction times decreased and there was some lagging, but it didn't cost me my whole gameplay, which is still impressive.
NordVPN Speed: The Results
My results show that NordVPN really is the fastest vendor out there, knocking off competitors like ExpressVPN from the top spot. When I connected to local and US servers, my speed increased by as much as 9%, which improved the quality of my streaming and browsing considerably. Even when I connected to a server in New Zealand, on the other side of the world, my download speed stayed quick and steady, regardless of the speed loss. However, the difference in speed when I connected to a server in Vietnam was significant. This is likely due to the distance of the server from my location, though, rather than a reflection of NordVPN's server speeds. The further your data has to travel, the more speed loss you'll experience. If you want reliable, fast connections anywhere in the world, even over thousands of miles, NordVPN is a top contender.
Is NordVPN Good for Gaming?
Speed tests are one thing, but how well does NordVPN fare with a high-demand activity like gaming? If you're a gamer like me, you know that excessive buffering and lagging is not only annoying, but it can make you lose the whole game. If you rely on speed tests alone to choose your VPN, you'll never know how well it'll hold up against your favorite game—it's the true speed test for any VPN. So I put NordVPN to the test on Fortnite, which we all know is a super-fast battle game that doesn't leave any room for slow speeds. I first connected to a US server. I ran a speed test while gaming, and the results speak for themselves. My speeds stayed steady, and while my ping significantly increased, I didn't notice any lagging while I was playing online.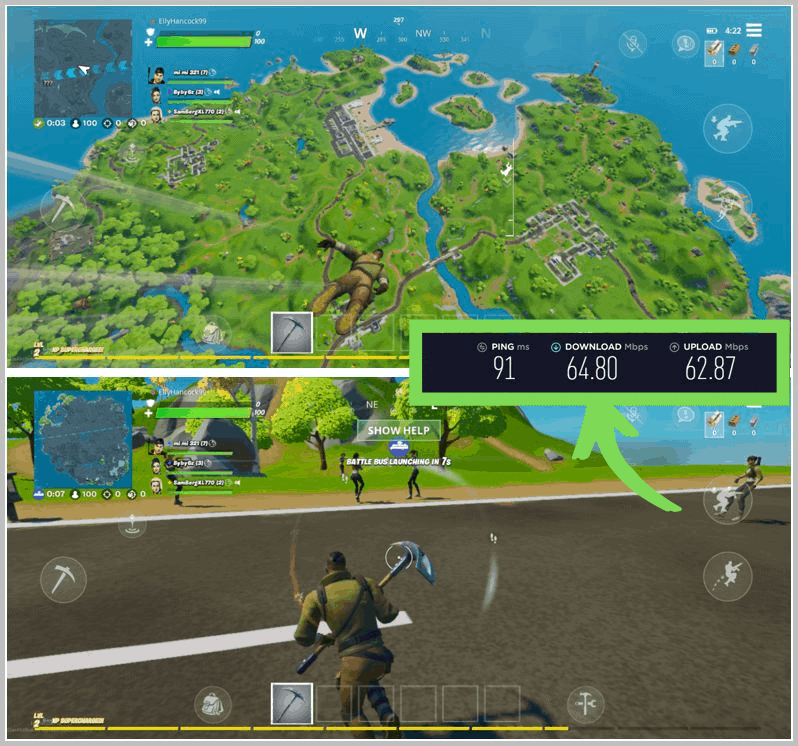 I also tested an Australian server just for good measure, and it was just as impressive. If you're a full-time gamer, NordVPN definitely delivers on buffer- and lag-free gameplay. And if you're not, you now know how much you can rely on NordVPN to provide lightning-fast speeds. Want to see which other vendors you can rely on for gaming? Check out our VPNs for gaming guide.
Security
Private and secure browsing is NordVPN's forté. But then again, it should be at the top of every vendor's list, because VPNs are supposed to keep you safe online. I tested every aspect of NordVPN's security features, looking closely at its encryption levels, kill switch, and leak protection. NordVPN uses AES 256-bit encryption algorithm to hide your data, which is the most secure encryption available. It's so secure that it's even used by some government agencies to hide top-secret files. 256 refers to the size of the encryption key and the number of possible codes someone would need to try to break it. Rest assured, there's almost an infinite possible number of codes with this level of encryption. No one is getting their hands on your data. The 256-bit AES encryption is combined with a 2048-bit DH key, SHA2-384 authentication, and perfect forward secrecy. Basically, this is the cipher used to encrypt and decrypt your data. The authentication is particularly important, as this is what checks whether your data packets have successfully arrived at the correct server. It makes sure they haven't been intercepted by a hacker trying to re-route them to another server. Perfect forward secrecy, or PFS, assigns you a new key each time you log on to NordVPN, so essentially, it's like you're a new user each time. This means any data or activity from your previous session is completely wiped and unrelated to your next. It also means that if your connection is compromised, there's nothing there to expose you—no personal data, no internet activity. NordVPN uses two types of security protocols, both of which are my top choices: OpenVPN UDP/TCP and IKEv2/IPSec. OpenVPN UDP is the most secure protocol available, and it's the default option for the majority of NordVPN's apps. You can choose other protocols, though, depending on your needs. However, it also depends on your device type. NordVPN uses IKEv2/IPSec as the default option for macOS and iOS devices, with the option to change to OpenVPN. Android and Windows users have OpenVPN only. To find out why, I spoke to their customer support team who told me that NordVPN simply provides greater choice for iOS users, which is a slight disappointment. Security protocols can be confusing, even for advanced users. Find out which option is best for you and your device with our VPN protocol quick guide. Want to know more?
Kill Switch
You may not realize you need a kill switch with your VPN, but it's actually one of the best ways to stay secure. It blocks traffic leaving your device if your connection is ever compromised or disconnected, which stops your DNS requests and IP address from being leaked. NordVPN has a kill switch for mobile and desktop users. It's available for Windows, macOS, iOS, and Android. But I noticed some differences between how it works per device. It's automatically enabled on mobile. But it's off by default on desktop, so you need to go into your settings and turn it on to benefit from maximum protection. It's also only automatically enabled on iOS mobile, but not Android. You only need to turn it on in your settings, but I'd still like to see less favoritism of iOS devices.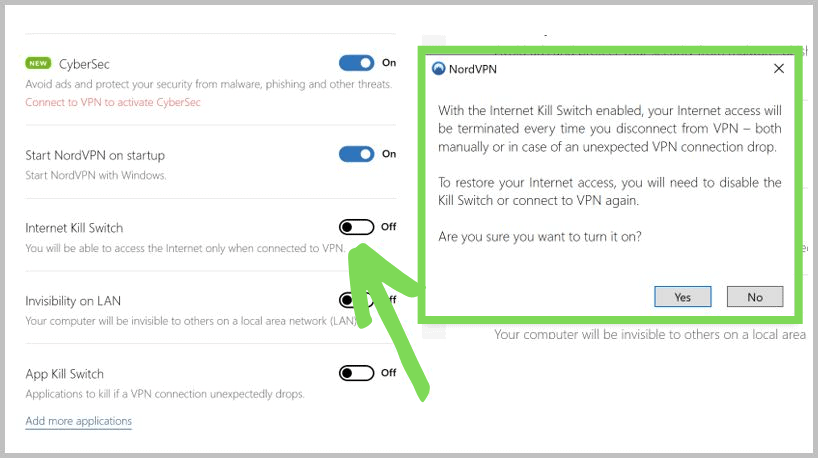 NordVPN offers something else with its kill switch, too. You can control which apps are blocked—this is NordVPN's kill switch extension. If your VPN connection drops, you can stay connected to the internet, but also block risky apps until the VPN is restored. It's great for torrenting because your P2P traffic is immediately shut down to protect you from IP leaks—but you can keep browsing while you're waiting to reconnect. NordVPN is the only vendor I've seen with this flexible option. Added control for users and extra protection? NordVPN's kill switch is up there with the best.
Split Tunneling
NordVPN doesn't have split tunneling for desktop, but you can use the browser extensions for Chrome and Firefox to do something similar. If you download these addons, only your browser traffic is encrypted. Apps outside your browser still use your local IP address, which is exactly how split tunneling works. On mobile, things are different. NordVPN offers a specific split tunneling feature for mobile. Its default setting is to route all your apps through the VPN, but you can easily change it. Simply add apps to your Trusted Apps list so these are routed through your VPN and assigned a foreign IP.
Does it work? Yes. I tested the split tunneling feature for mobile several times. I left out my streaming apps for the UK, banking apps, and YouTube, and I was able to use them all with my local IP address while also browsing encrypted. The browser extensions also work just fine, but I'll monitor NordVPN to see if it extends its split tunneling feature to desktop. In the meantime, ExpressVPN offers split tunneling for desktop users.
Leak Tests and Leak Protection
Leak protection is a particularly important feature, and it should be high on your list when you're choosing a VPN. Sometimes, software faults and browser security flaws can leak your DNS requests and IP address, making your location and online activity visible to hackers and your ISP. It also makes you vulnerable to tracking and spies who can see your real location and online traffic. NordVPN offers DNS and IP leak protection that claims to stop any accidental exposure. I put it to the test using my Windows and Mac devices, on UK, US, Netherlands, and China servers. I didn't detect any leaks, even across multiple servers, on both desktop and mobile.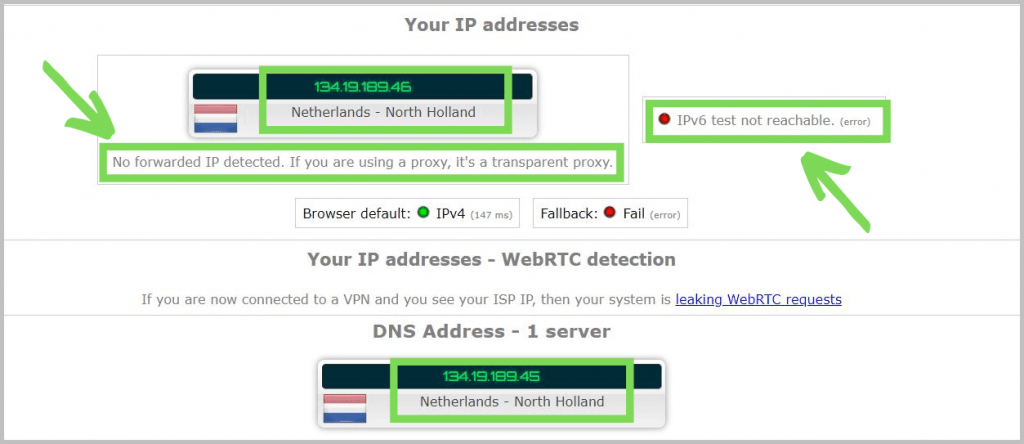 As you can see, NordVPN successfully blocked IPv6. This isn't usually protected when you connect to a VPN, so if you open up an IPv6-compatible site, you're exposed. But NordVPN blocks IPv6 so you're always invisible to any outsiders. It's safe to say NordVPN shields your anonymity and makes sure you're secure, wherever you connect, and with whichever device you're using. Want to know more?
Tor Compatibility, Security Audits, and Security Breaches
NordVPN is compatible with Onion over VPN and even has dedicated Onion over VPN specialty servers. This creates a seamless connection with the Tor network with a simple click, so you don't even need to open up Tor. You can also connect to a NordVPN server first manually, and then fire up the Tor browser if you prefer. It's rare to see a VPN that's compatible with Tor, but NordVPN offers that and more. In fact, it's the only VPN I've seen that lets you access the Tor network through any browser— that's why it's our top choice for Tor compatibility. NordVPN has recently completed not one, but two, independent security audits by leading security experts VerSprite and PricewaterhouseCoopers AG. The tests showed no critical vulnerabilities, and any small issues were rectified by NordVPN before being tested again. You can download the reports to read for yourself—that's honesty and transparency at its best. There was one security breach recorded in October 2019, but it actually proved that NordVPN is safer than you might think. Even though a hacker managed to access a rented server, they couldn't find anything other than what an ISP would see, since NordVPN doesn't store any data or activity. The verdict? NordVPN is safe, secure, and really does offer the no-logging policy it talks about. Even the potentially worrying information I found, like security breaches, actually showed me why NordVPN is the industry-leading vendor it claims to be.
Double Encryption
My tests showed that NordVPN takes security one level higher than other vendors. It offers double VPN, where it routes your traffic through two servers rather than one. This means it's even harder to find you and trace your online activity, because there's no single line of traffic. Your traffic bounces between servers in different locations. I made sure it works by testing it out myself. It sent my traffic through the Netherlands and then Switzerland, but there's a full list of servers you can choose from if you need certain geoblocked sites. My speeds were noticeably slower, though, so I'd avoid it if you need speedy browsing and streaming.
NordLocker
Want to securely upload your files to the cloud? I found another neat feature from NordVPN that does just that. NordLocker encrypts your files before you share or upload them to the cloud. Of course, you can only share them with people who have NordLocker so that these files can be decrypted. But it means less risk of man-in-the-middle attacks because hackers can't decrypt your files, and even if they could, they wouldn't be able to read the code. Even better, you can actually get 5GB of data for free when you first sign up for it. After that, you pay on top of your monthly subscription.
Privacy
Some vendors leave much to the imagination when it comes to privacy. You might think you're safe, but the privacy policy shows that some of your browsing activity or personal information is actually held. Or the VPN's headquarters are in a country that's part of the 5/9/14 Eyes Alliance, so you could be at risk of being exposed to the government. And what if a VPN doesn't protect you from ads, malware, and trackers? These are all risky, as they could expose your real location or browsing traffic at any time. Let's take a deeper dive into NordVPN's privacy info.
Location
NordVPN is registered in Panama, which is far away from Fourteen Eyes Surveillance. This is very important for privacy. Any VPN in these areas is within reach of a massive spy network that's known to gather and share all kinds of sensitive user data. But Panama doesn't have any invasive data retention laws, so you're safe.
Does NordVPN Have an Adblocker?
I always score VPNs that offer adblockers more highly. It's an important feature to have, as it keeps you safe from online profiling, trackers, and phishing scams. Not to mention it blocks annoying pop-ups to save you from waiting for pages to load, too. NordVPN provides adblocking and extra malware protection with its CyberSec suite, which is built into the app. I tested it over a two-hour period and didn't encounter any annoying ads, even on YouTube.
Does NordVPN Keep Logs?
NordVPN offers a true no-logs policy. It's located in a privacy-friendly country, and its actual privacy policy is honest, straightforward, and free from loopholes. It doesn't collect any important data from your connection, so there's nothing that could identify you.
Server Number and Locations
5,520 servers
59 locations
Servers in the US, UK, Canada, Australia, Turkey, Hong Kong, and more
Worldwide coverage is an area NordVPN really excels in. It has multiple servers in nearly every country, though the majority of its servers are in the US—there are over 1,600 servers there. NordVPN even has servers in intensely restricted regions like Turkey and the UAE. There are plenty close to China, too, including Hong Kong, Vietnam, and Indonesia, which makes it a reliable VPN for China. Actually, it's our top choice. Want to learn more about NordVPN?
Server Security Standards
NordVPN uses hard drive storage rather than RAM on its servers, which surprised me. This means that all stored data is kept on a physical hard drive until it's manually erased. However, remember that your personal information and activity aren't stored since NordVPN doesn't keep any logs. I dug deeper to find out why NordVPN doesn't use RAM storage. But it seems there are changes ahead: NordVPN is moving towards RAM to provide greater anonymity. This means any data is automatically deleted after every machine reboot, so there's nothing physically stored anywhere. That also means no risk of hackers looking to intercept and steal your data.
Shared IP addresses
NordVPN uses shared IP addresses on its servers, which gives it an extra security advantage compared to other vendors. When you connect to a server, you share the same IP address as every other user connected to that server. This makes it incredibly difficult to find you because the IP address can't be traced to a single individual.
Obfuscated servers
Another great privacy feature from NordVPN is its obfuscated servers. These are designed for locations with heavy digital censorship that makes it difficult to use a VPN. However by hopping onto one of NordVPN's obfuscated servers, not only are your internet traffic and location hidden, but so is your VPN activity. In places like China, Turkey, and the UAE, these help you bypass geoblocks and avoid government surveillance, so NordVPN is ideal if you find yourself in a restricted country.
Virtual Server Locations
It's quite common for VPNs to use virtual servers, where the physical location of the server is not actually in the country you're connecting to. This is designed to give you better connections and speed as your traffic is routed through a country with a better connection. NordVPN doesn't offer any virtual server locations, so you can trust that your connection really is routed to the country you intended.
Does NordVPN Offer Static/Dedicated IP Addresses?
Yes. You can purchase a static IP address to use with your VPN subscription and quickly switch between it and other servers in the app. With a static IP address, you'll use the same IP address each time you connect to the VPN. Static IP addresses offer several benefits, the biggest being that you can access streaming services from a particular country, even if NordVPN's own public IP addresses are all blocked. If you're the only one using a particular IP address, streaming services won't ever flag it as belonging to a VPN. Even leading vendors like ExpressVPN and Surfshark don't offer this feature—I'm impressed.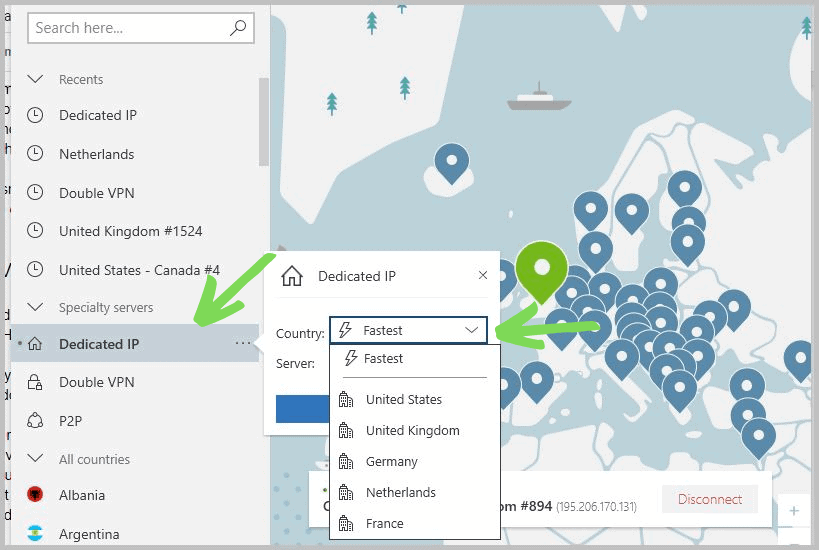 Apps, Extensions, and Compatibility
NordVPN is compatible with all major devices, including Android, Windows, and iOS. My tests did show some differences between the iOS and Android apps, though these are more due to Apple's restrictions than NordVPN's. It's the same for the Windows and macOS apps, too.
iOS and Android Apps
Setting up on mobile is easy with one-click connection. After installing the app, you just need to sign in and enable the ad blocker, and then you can connect to a server right away. It's even quicker if you use the Quick Connect feature, but you can also search for servers manually. Although the interface is similar on both mobile apps, I found a few noticeable differences during my tests. The iOS app has more options for security protocols. If you're an Android user, you can only use OpenVPN; but iOS users can also choose IKEv2—this is actually the default option. The specialty servers are also different. On Android, you can access P2P, obfuscated, double VPN, and dedicated IP servers, but you can only use Onion Over VPN and P2P on iOS. It's probably due to Apple's strict security standards that regulate what you can and can't do, but I'll be waiting for NordVPN to reduce these inconsistencies—especially Onion Over VPN on Android. Still, most vendors don't allow Tor on mobile at all, so NordVPN is still way out in front in this area.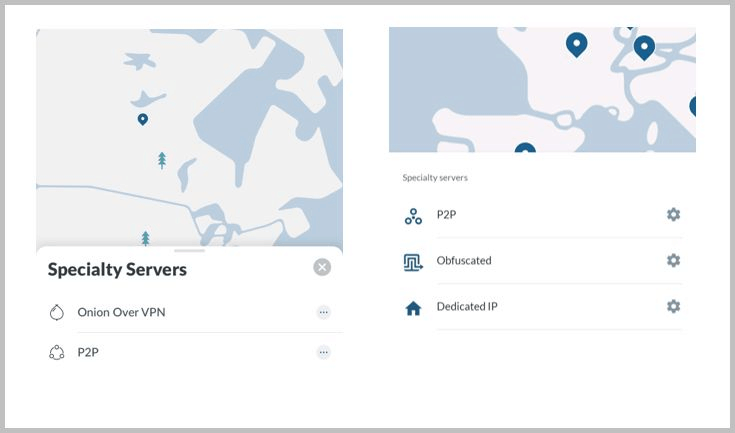 Both apps offer some standout features, including auto-reconnect options, automatic connection on WiFi and mobile networks, and the CyberSec ad and malware blocker. You can use split-tunneling on mobile, too.
Browser Extensions
NordVPN offers browser extensions for Firefox and Chrome, which you can use on either desktop or mobile. I've not seen another vendor that lets you use browser extensions on mobile, so this is interesting. Some vendors limit the servers you can access, but NordVPN doesn't. You can connect to any of the 5,520 servers in 59 countries. You can install the lightweight addons directly to your browser so they encrypt only your browser traffic. This means they function like a split tunneling feature, because anything you do outside of the browser keeps your real IP address. They're a great function for extra flexibility, but if you want maximum security across your whole device, stick with the app. NordVPN also adds extra leak protection with the Block WebRTC feature. It's automatically enabled in the app and protects you from accidental leaks that might reveal your IP address. Web browsers are known for causing WebRTC leaks, so the added security is a strong standout. And NordVPN encrypts your traffic with Transport Layer Security (TLS v1.2)—it secures your connection, even when you visit sites that don't have HTTPs protection, so you're always anonymous and can't be intercepted. You can also use the ad blocker, Cyber Sec, with the browser extensions.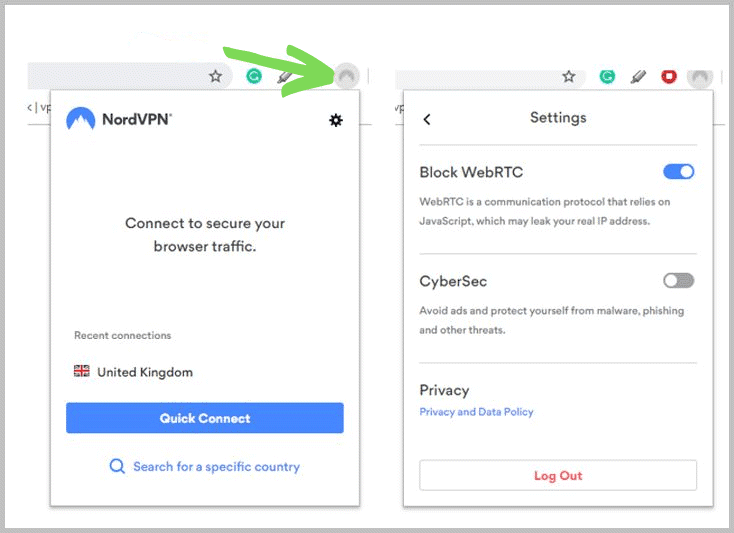 Router App
NordVPN has an app for VPN-compatible routers. If you install the app at router level, you get unlimited simultaneous connections, because the router is classed as the connected device. This means you can also use NordVPN on WiFi-only devices, such as games consoles and smart TVs, which wouldn't usually allow a VPN connection. There are tutorials available to walk you through set up. Just head over to the tutorials section of the NordVPN website and find your specific router, alongside the security protocol you want to use, and then follow the easy steps.
Breaking Geoblocks: Can it Work in China?
It's not easy to find a VPN that works in China. That's because the restrictions and government surveillance are so intense that some VPNs simply aren't powerful enough to get around them. In these countries, you can't even get onto most vendors' sites, never mind download the app to use them. But thanks to extra obfuscation and bulletproof encryption, NordVPN is one of the best services you can bring with you to China. However, you do need to install the app before you get there, otherwise you won't be able to access it. NordVPN uses obfuscated servers that fly past the Great Firewall of China. These servers not only encrypt your traffic, but they also hide the fact that you're using a VPN at all. This means the Firewall can't see that you're using a VPN, so it can't block your traffic, so you're completely anonymous and undetected while browsing your favorite sites. Whether you need Google, Facebook, YouTube, or just your Hotmail account, NordVPN guarantees access from inside China. I ran into zero geoblocks during my tests. While there are no servers in China, NordVPN has plenty in nearby locations, like Hong Kong, Vietnam, Singapore, Taiwan, and Thailand. So you can also tune in to Chinese TV or other domestic sites with NordVPN, too. NordVPN's obfuscated servers also work in other hard-to-reach locations, like the UAE, Iran, and Qatar. In fact, NordVPN offers obfuscated servers in 13 of its 59 locations to help you easily get around geoblocks in restricted locations.
How Many Devices Can I Connect With NordVPN?
You get 6 simultaneous connections with NordVPN. This includes computers, laptops, phones, tablets, and any other devices on which you can install a NordVPN app. However, remember that if you install the VPN on your router, you'll enjoy unlimited simultaneous connections for all devices that connect through that router. This means you can also protect WiFi-only devices that connect through the router, such as Xbox and PlayStation consoles, smart TVs, and streaming media players. I'd like to see NordVPN add more direct connections, especially since leading vendors like Surfshark offer unlimited simultaneous connections without needing to use your router. Need to know more?