Surfshark's latest pricing discounts make it the cheapest VPN I've tested. But does its quality match its price?
Surfshark claims to be the best all-round VPN, great for Netflix, torrenting, anonymous browsing, and staying safe on public WiFi. So I put it to the test.
I researched every feature, from its torrenting ability and security protocols to its device compatibility, unlimited connections, and customer support.
I've got everything you need to know about what it can do (and whether it does it well) detailed below.
Black Friday/Cyber Monday 2021 Deal: 
Surfshark is offering a crazy 83% off! Get a subscription now for only $2.21/month/month 3 months free!
The Basics
Surfshark is a well-rounded VPN service that claims it can do everything from torrenting and streaming to browsing the Dark Web. But how well does it really perform? Can it really bypass geo-restrictions and unblock Netflix? And how about its speeds?
I put Surfshark through my toughest tests to see if it lives up to its claims. It's now the cheapest premium option available, but that doesn't mean much if it can't deliver on the features you need most. I checked on server coverage, conducted speed tests, looked over its security measures, analyzed its interface and ease-of-use, and even put its customer support on the spot.
Streaming – Does Surfshark Work with Netflix?
Great news if you're looking for a streaming fix: Surfshark can unblock Netflix.
It's actually one of our best VPNs for streaming. I found out that Surfshark can also unblock Amazon Prime Video, Hulu, HBO GO, and BBC iPlayer.

Surfshark's high-speed servers meant that I was able to stream in high definition, even though I was connected to an international server.
I switched its CleanWeb ad blocker on while I was testing out CWTV and YouTube to get rid of the pesky midroll ads, which made for an overall smoother streaming experience.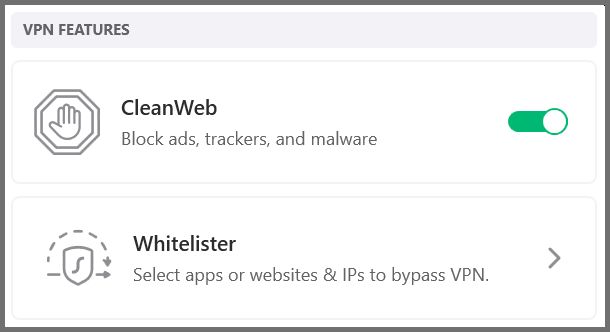 Surfshark Speeds
Fast and reliable connections add a lot of value to a VPN service. A VPN that slows you down will negatively impact your ability to stream, torrent, and even browse the internet.
Before connecting to the VPN, I used a speed test to determine my starting speeds. I used a mobile device, and my speeds were 40.92 Mbps download, 14.52 Mbps upload, and a ping of 51 ms.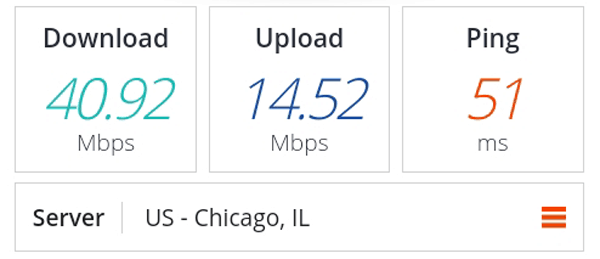 I compared these results to the speed I was able to achieve when connected to the VPN to get an accurate idea of Surfshark's performance.
I began by testing its Quick Connection feature, which is supposed to automatically connect you to the fastest available server. The app connected me to a US-based server, and my speeds decreased to 25.90 Mbps.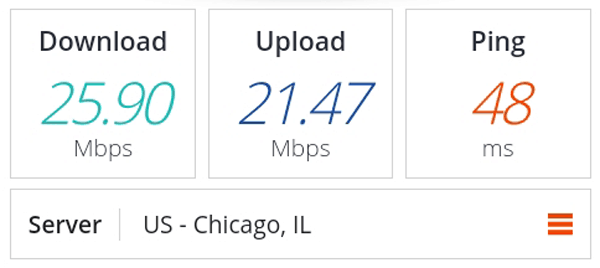 I tested two other US servers, and the results were similar. While there was a speed decrease on each server, the connections were still fine for some online gaming, streaming in HD, and torrenting.
While connected to a UK server, my average download speed was around 20.06 Mbps: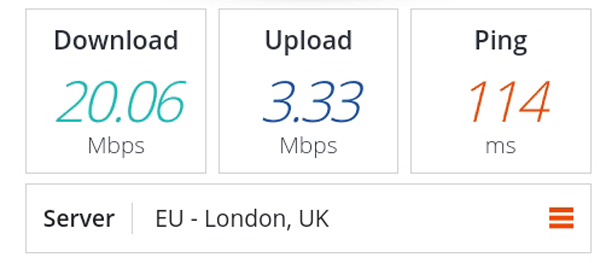 This is slower than the results that I got with local US servers, but still fast enough for streaming and other high-traffic activity.
It's common to get slower speeds when connecting to servers that are farther from your physical location.
My download speed while connected to a server in Denmark was 18.68 Mbps: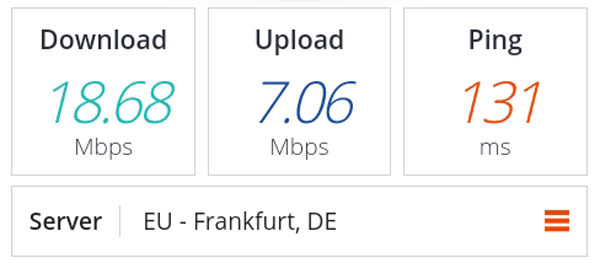 Even across the world in Japan, I got an impressive speed of 13.31 Mbps: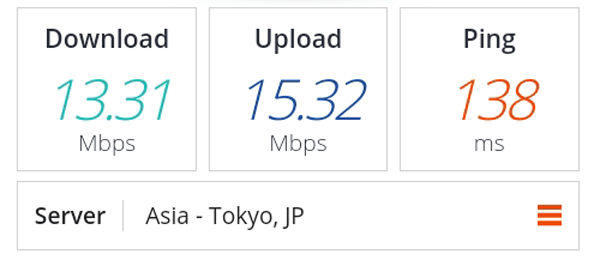 These are fairly consistent speeds. I also got good results for network reliability. I didn't experience any speed drops or connection failures during my tests.
Is Surfshark Good for Torrenting?
Surfshark is a secure and reliable choice for torrenting. All of its servers allow P2P sharing, and many are optimized for fast torrenting.
It offers all the necessary security measures to protect you and keep you anonymous while you torrent. Alongside 256-bit encryption and its strict no-logs policy, Surfshark passed all my IP and DNS leak tests.
It's compatible with P2P clients like BitTorrent and uTorrent as well as streaming players like Ace Player, VLC, and Popcorn Time.
If you want a great VPN for torrenting, try NordVPN. WIth hundreds of P2P-optimized servers, you'll get fast speeds as well as strong encryption to protect your online privacy while file sharing. My team and I tested hundreds of service providers to find the best VPNs for torrenting — check out the list if you want more options.
Security – Is Surfshark Safe?
My test results show that Surfshark is a secure VPN. It offers multiple high-end security
features, which I'll take a closer look at below.
DNS and IPv6 Leak Protection
Before I trusted Surfshark with my own data, I tested its DNS and IPv6 leak protection.
DNS leak protection is important because it prevents security flaws in your browser from routing your DNS requests through your ISP instead of your VPN. Similarly, IPv6 leak protection prevents IPv6-enabled websites requesting your real IP address, and finding out your location.
I was pleased to find that Surfshark wasn't leaking my DNS requests or IPv6 address. My IP address appeared to be based in the UK, even though I am in the US. This is good news because it means Surfshark's IP masking works.

Encryption
Surfshark guards your traffic with 256-bit encryption. This is the highest level of protection available, and means that third parties, including your ISP, can't see any of your activity or personal data.
Automatic Kill Switch
Surfshark's automatic kill switch kicks in and temporarily disconnects your internet if your VPN connection fails. This prevents data and IP leaks, and it automatically reconnects your internet when the VPN connection is reestablished.
Double VPN
MultiHop mode – Surfshark's version of Double VPN – routes your traffic through two servers instead of one. This adds an extra layer of encryption, but it also slows your connection down. It's useful for journalists in restrictive countries, but most regular users won't need to switch it on.

Image: Surfshark's Windows App
HackLock
You can use HackLock to monitor your email and passwords for any security breaches. Once you've enrolled in the program, if your information is found in a leaked database online, you'll receive a message from Surfshark telling you that you're at risk.
Blind Search
BlindSearch is Surfshark's search tool. Unlike Google's search engine, BlindSearch is private and ad-free. It doesn't track or record your search history, either.
Camouflage Mode
This mode is useful if you're trying to bypass a firewall, or you live in a country that restricts VPN usage. It makes your encrypted traffic look like regular traffic under deep packet inspection (DPI) so that nobody can see you're using a VPN. Unfortunately, it's only available on Windows, Android, and iOS.
NoBorders Mode
Trying to get online in a heavily-censored region, like China? No problems. Surfshark's NoBorders mode will automatically detect this, and present you with a special list of servers that you can connect to.
Does Surfshark Keep Logs?
Surfshark is headquartered in the privacy-friendly British Virgin Islands, outside the jurisdiction of the 5/9/14 Eyes Alliance. The privacy policy confirms that Surfshark does not collect any usage or connection data.
The provider only stores the following information:
Your account email address (used only for customer service purposes)
Your password (encrypted)
Basic billing information
Don't like the idea of handing over your payment details and exposing your identity? You can avoid this and enjoy complete anonymity by paying with Bitcoin or another cryptocurrency instead.
The only part of the logging policy I'm not a fan of is that Surfshark may collect unique advertising identifiers from third parties for marketing purposes and user analytics.
This isn't a major concern, however, since you can reset your advertising identifier or opt out of this data collection at any time in your app settings.
Overall, Surfshark has a transparent and privacy-friendly logging policy. None of the following information is collected:
IP addresses
Browsing history
Session information
Bandwidth used
Connection time stamps
Network traffic
Further proof of Surfshark's trustworthiness can be found in its warrant canary, which is a way for businesses to legally inform users of secret government requests for private information. Surfshark's warrant canary is fully up to date and available on the website:

Does Surfshark Have an Ad Blocker?
Surfshark has a built-in ad, tracker, and malware blocker called CleanWeb.
I put it to the test by visiting sites that I know are usually full of ads, like Facebook. The CleanWeb feature worked beautifully. It even blocked YouTube's midroll ads.
Does Surfshark Work in China?
China is constantly working on its anti-VPN technology, so VPNs have to work equally as hard to keep getting around the country's geo-restrictions. Because conditions change constantly, it's sometimes difficult to say whether a VPN works in China.
However, most users report that Surfshark does work in China. The FAQs also say that you can reach out to customer support for help if you find that the VPN is not working in your location.
Surfshark's NoBorders feature is useful for bypassing censorship. It detects when you are connected to a restricted network or in a country with government censorship, and automatically redirects your traffic to access restricted content.
Price and Value for Money
Surfshark's three subscription plans come with the same premium features and differ only in length.
The 12-month and 24-month plans come with significant discounts that make this VPN cheap and affordable for long-term use.
A month-to-month subscription is a bit pricier, but the cost is still very reasonable for the value this VPN provides.
Does Surfshark Have a Free Version?
Surfshark doesn't have a free version, but it does offer a 7-day free trial for mobile users. You can activate your free trial by downloading the app from Google Play or the Apple App Store.
Surfshark's Refund Policy
You get a 30-day, money-back guarantee on all subscriptions.
If you submit a refund request within 30 days of signing up, you will receive a full refund. You can submit your request via email or live chat. When I tested this, Surfshark asked me a few questions to find out which aspects of the service I didn't like.
Is Surfshark Compatible with My Device?
Surfshark is compatible with all major operating systems.
It has feature-rich apps for Windows, macOS, Android, iOS, Linux, Chrome, and Firefox. There are also apps for some smart TVs, including FireTV and Apple TV.
You can use its SmartDNS feature to connect devices that don't normally support VPN connections, like your Xbox and PlayStation. You can use SmartDNS to unblock and watch US-based content, but it doesn't change your IP or encrypt your traffic.
I noticed some feature inconsistencies between Surfshark's apps. For example, its Windows and Android apps let you choose your preferred VPN protocol, but the macOS and iOS apps don't.
I was relieved to find that all of its apps have an automatic kill switch, CleanWeb, NoBorders mode, and MultiHop.
Another wonderful benefit of a Surfshark subscription is that it allows unlimited simultaneous connections. This means you can connect all your computers, phones, tablets, and other devices, and use them all at the same time without needing to sign up for multiple VPN subscriptions.
Encryption
Surfshark keeps all users safe with robust AES 256-bit encryption, and provides optional ChaCha encryption for Android users. It supports OpenVPN, WireGuard, and IKEv2 protocols, as well as Shadowsocks protocol for Windows. Shadowsocks is an open-source encrypted proxy. It's another helpful tool to bypass strict internet censorship, especially in areas like China. Wireguard protocol is one of the newest protocols out there and it offers ultra-fast, secure connections. Currently only a few VPNs support WireGuard protocol, so an affordable one offering it is a big deal.
It's usually best to stick with an OpenVPN connection for the best security. Surfshark's macOS and iOS apps use IKEv2 by default, but you can use WireGuard or manually configure an OpenVPN connection if you prefer.
Windows, iOS, and Android apps allow you to choose between TCP/UDP OpenVPN or WireGuard connections.
Surfshark Customer Service
I was pleased with the quality of Surfshark's customer service. I found the 24/7 live chat support team to be responsive, friendly, and informative.
When you submit a question, the chat box tells you your position in the queue: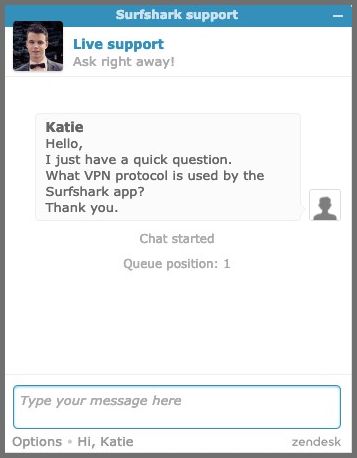 After less than a minute of waiting, a representative joined the chat to answer our question.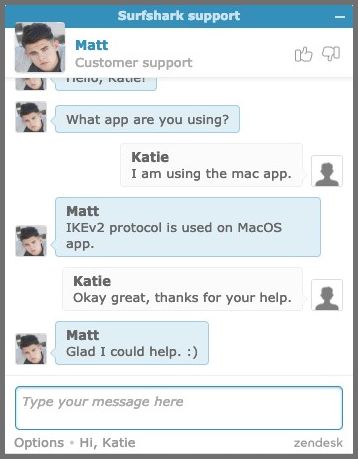 The live chat support functioned exactly as advertised. Since customer service is such an important part of a premium VPN service, Surfshark's high quality customer support is a huge plus.
User Experience
Surfshark's minimalist user interface is designed for ease of use. The native app is both aesthetically pleasing and a breeze to navigate.
On the left is a clear list of all server locations, along with a search bar to help you quickly find what you're looking for.
At the bottom right is a Quick Connect button that will automatically connect you to the most optimal server based on your location.
The intuitive platform makes for a smooth user experience, even for beginners.
When you first open Surfshark on a new device, the app gives you some help with the login and installation process. For example, the app walks you through the process of giving permissions. It also has a separate interface for the MultiHop feature (Surfshark's version of Double VPN), which is equally user-friendly.
The Settings menu is simple and straightforward. Even if you're new to VPNs, you should have no trouble taking advantage of Surfshark's advanced features. Surfshark's mobile app is also attractive and easy to use: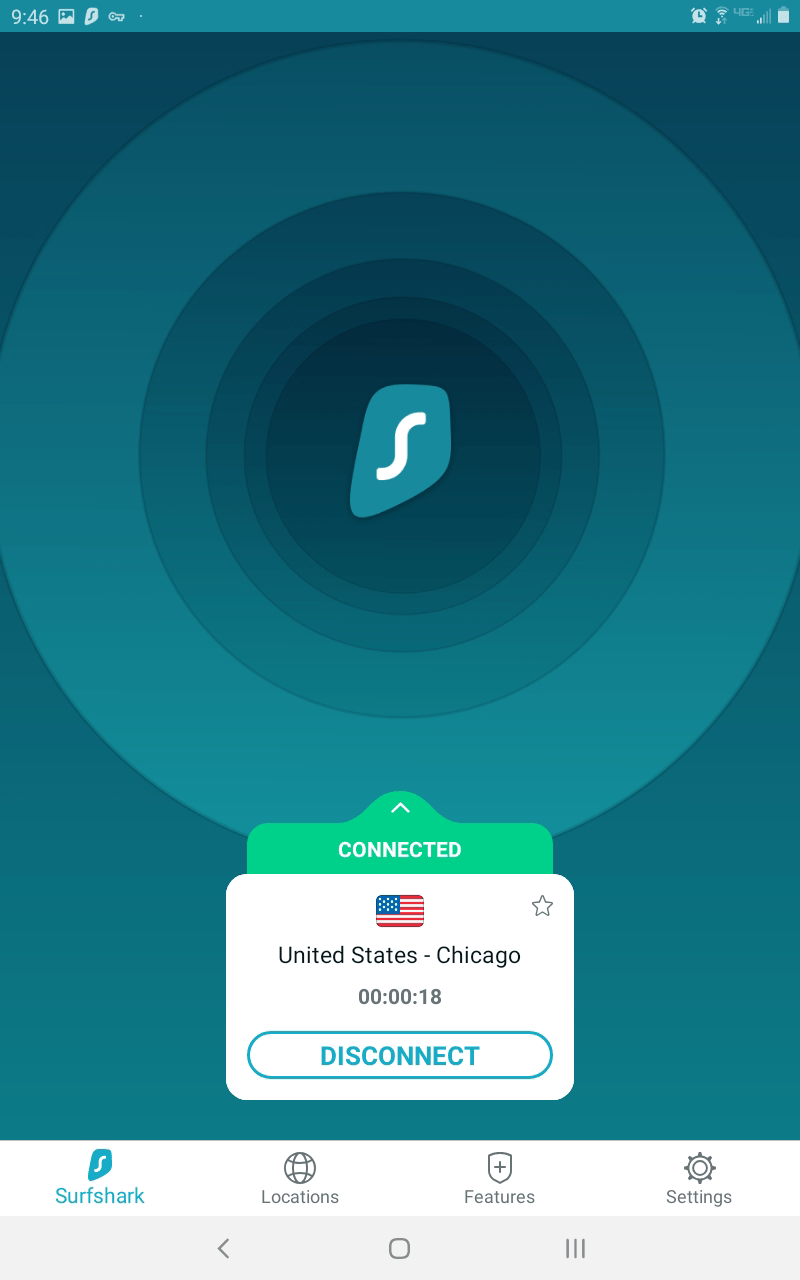 Surfshark has created a positive user experience with its well-designed native apps. The interface is clear for both first-time VPN users using basic functions and experienced users using more advanced settings.
It's rare to find a VPN app design with no discernible flaws, but I was very impressed with what Surfshark has accomplished.
Fast and reliable VPN that's perfect for streaming and torrenting
Surfshark offers an impressive service, especially for a relatively new provider. If you're looking for a fast, reliable, and secure VPN for streaming, torrenting, and protecting your privacy, Surfshark is an excellent option.
If you're looking for speedy, unrestricted, and reliable streaming (who isn't?), then check out our review of the best VPNs for streaming wherever you are.
My colleague tested Surfshark not too long ago, and found issues with device compatibility. We're happy to see the VPN now supports all major platforms. The fact that Surfshark also offers unlimited simultaneous connections makes it an even better value.
Surfshark is especially worth considering if you're looking for a long-term VPN, because of the budget-friendly deals offered on longer subscriptions.
1700 servers in 63 countries
Offers browser extensions for Chrome and Firefox
Accepts Bitcoin and offers 30-day money-back guarantee
Unlimited connections and strong encryption
Supports P2P
24/7 live chat support